Attitude Toward Training, Part I: Pitfalls of Rationalization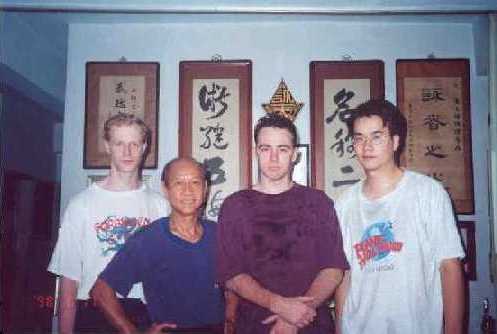 Bradley Temple, Sifu Lo Man Kam, Nick Vietch and John Kang in 1996
When I was training under Sifu Lo Man Kam in Taiwan, one of my best friends was Bradley Temple. He was my senior by about one month, and now runs a great LMK Federation school in Las Vegas. His Chi Sao Sticking Hands was always better than mine, which always motivated me to improve myself.

I remember that when he reached about the mid-point of his Wooden Dummy training, I felt that his hands had become stiff, and I had an even harder time working against him in Chi Sao. I told myself, "he's too stiff, he's doing it wrong!" However, in retrospect, this misplaced critique of his hands did not make me any better. In fact, what had happened was that the Dummy training, as it often does, had made his hands stickier and firmer (stiff is bad, but firm is good—it like pushing up against a springy young bamboo stalk as opposed to a rigid pine 2 x 4). I would only realize this once I had practiced on the Dummy a lot myself.
In my 15 years of doing Wing Chun as a student and teacher, I have seen similar stories played over and over again. When rolling hands with a student from another school, he grumbled that my hands had no structure—yet I landed several hits on him and he was dead tired from unsuccessfully trying to hit me. My students have complained that another student was too stiff, and he wouldn't listen when they told him to relax. One student was getting hit by another and criticized him for moving too fast and too sloppily. However, telling a person his shortcomings after they have just schooled you probably just makes them look down on your as an insecure sore loser. Even if they were using bad technique, they probably would not realize it anyway, and your comment would only reinforce in their mind that they were doing it right.
Even if your partner is using bad form, you still got hit.
In addition to not helping your partner improve, another problem is that none of these judgments about them makes us any better at Wing Chun.
The complaints are our own rationalizations as to why we did not perform the way we thought we should, and a means of soothing our own bruised ego.
Furthermore, it prevents us from learning a valuable lesson:
if we did poorly, even if our partner was not using good Wing Chun, how can we train so that we can do better?
After all, if someone really wants to fight you, telling them that they are too stiff or too sloppy will not help you win!
So what is the right mindset for dealing with these types of situations? Step back, reflect, and try again. It doesn't matter if your partner was using poor technique (or really good technique that your experience leads you to believe it is poor). The key is to find the solution in yourself. Whining about it does not make you any better.